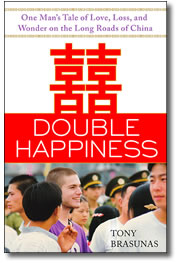 Latest News
MAR 2014: Double Happiness is named a finalist for the ForeWord Travel Book of the Year.
DEC 2013: Torchpost publishes Tony Brasunas's first book, Double Happiness: One Man's Tale of Love, Loss, and Wonder on the Long Roads of China.
An exquisite journey into the heart of China and through the soul of a young American, Double Happiness is a groundbreaking story of spiritual awakening in the era of globalization. From the streets and markets of old Canton, from the curiosity and dreams of his upwardly mobile students, and from the magnificent valleys and peaks of the ancient Middle Kingdom, Brasunas weaves a masterful portrait of a changing and modern China.